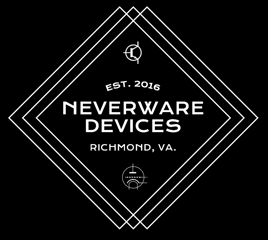 FAQ
Power?
All Neverware Devices pedals use +9VDC, center negative power. Anything else will void the warranty (see below).
Shipping?
Since we are just getting off the ground, we're going to only ship to the US for now. As we get going, this will definitely change!
Returns?
Unfortunately, as a small company, we simply cannot afford to do any returns and/or exchanges.
Warranty?
All pedals carry a warranty for materials and workmanship for one year. This warranty is non-transferable and covers manufacturing defects as well as mechanical and/or electrical failure of parts during normal use. The warranty does not cover environmental damage (including but not limited to liquids, heavy impacts, etc.), use of an incorrect power supply (AC supply, over-voltage, and/or reverse polarity), misuse or abuse by the user, damage as a result of user repair work or modification, or cosmetic damage.